Most Popular Movie and web series on Aha 2021:Aha is an Indian OTT platform. It offers Telugu Language content like Movies, Web series, Shows, and Many More. This OTT platform launched on 25 January 2020 and launched officially on 25 March 2020. This is a video on demand streaming.
The story of MENTAL MADHILO revolves around The confusing misadventures of a young man stuck in a love triangle with a difficult choice to make. Will, he ever get out of his dilemma?
DIRECTOR: Vivek Atreya
STARRING: Sree Vishnu, Nivetha Pethuraj.Amrutha Srinivasan, Shivaji Raja
Written: Vivek Athreya
The story of KRISHNA AND HIS LEELA revolves around the Tangled between two women, Krishna's confusing journey to understand love and relationships.
DIRECTOR: Ravikanth Perepu
STARRING: Sidhu Jonnalagadda,Shraddha Srinath,Shalini Vadnikatti,Seerat Kapoor
Written : Ravikanth Perepu,Siddu Jonnalagadda
The story of 36 VAYASULO revolves around the Vasanthi, a 36-year-old married woman, sacrifices her dreams and desires for her family. While a friend inspires her to rediscover her true self, she becomes an achiever and earns her family's respect.
DIRECTOR: Rosshan Andrrews
STARRING: Jyothika, Rahman.Abhirami,Nassar
Written :  Viji (dialogues)
The story of BHANUMATHI & RAMAKRISHNA revolves around A love story between two misfits hailing from contrasting worlds and their navigation through struggles of work, life, and love.
DIRECTOR: Srikanth Nagothi
STARRING: Naveen Chandra,Salony Luthra, Raja Chembolu, Harsha Chemudu
Written : Srikanth Nagothi
The story of COLOUR PHOTO revolves around a love story between Jaya Krishna and Deepti, set in the late 1990s, comes alive in this periodic drama.
DIRECTOR: Sandeep Raj
STARRING: Suhas,Chandini Chowdary,Sunil,Viva Harsha
Written : Sandeep Raj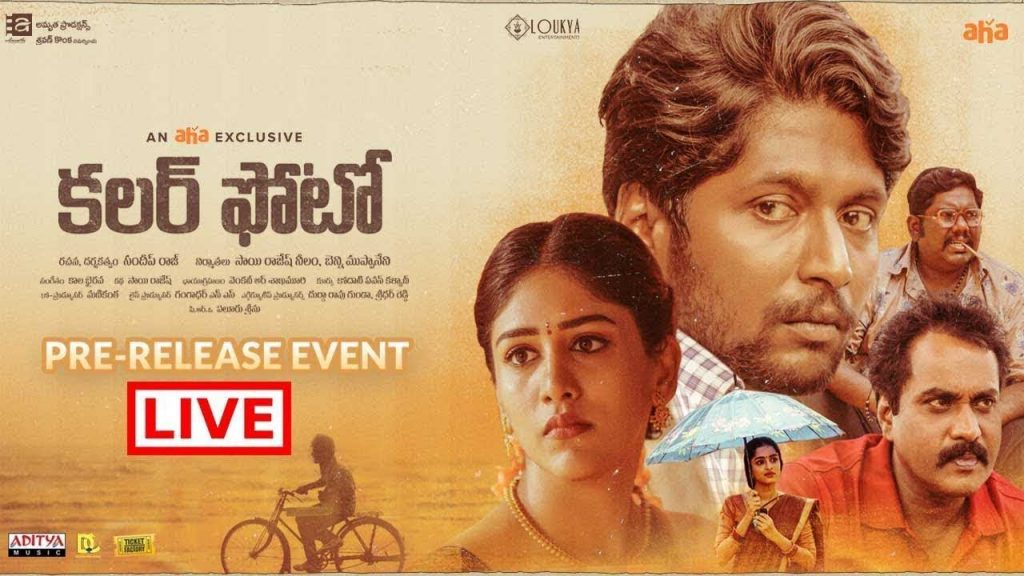 The story of JOHAAR revolves A gripping tale around the lives of five people grappling for their dreams when a young politician, suddenly in the hot seat of power, makes the life-altering decision of setting his father's legacy to stone by hook or by crook.
DIRECTOR: Teja Marni
STARRING: Naina Ganguly, Esther Anil, Ankith Koyya, Easwari Rao, Subhalekha Sudhakar
Written: –
This story revolves around Shiva, a care-free guy, and his love interest Charu. When he drives her to Mumbai, different gangs chase both of them for various reasons.
DIRECTOR: N Lingusamy
STARRING: Karthi,Tamannah,Sonia Deepthi,Milind Soman
Written : Khwaja Ahmad Abbas
The story of RAJA VAARU RANI GAARU revolves What starts of as a classic tale of romance when Raja falls in love with Rani turns into a captivating adventure as the two try to work their way through time's tapestry and outlast the toils of love. Will fate even work in their favor?
DIRECTOR: Ravi Kiran Kola
STARRING: Kiran Abbavaram, Rahasya Gorak, Rajkumar Kasireddy, Yazurved Gurram
Written : Khwaja Ahmad Abbas
This story revolves around a happy man and his two sons, who are a contrast in nature. When differences creep in the family, how did the brothers sort them out and set an example for an ideal family?
DIRECTOR: Srikanth Addala
STARRING: Venkatesh, Mahesh Babu, Samantha, Anjali
Written :
#10.JALSA
The story of JALSA revolves Sanjay Sahu's past is chasing him and creates havoc in his life. How does he respond to it forms the story?
DIRECTOR: Trivikram Srinivas
STARRING: Pawan Kalyan,Ileana,Mukesh Rishi,Prakash Raj
Written :
#11.OREY BUJJIGA
The story of Orey Bujjiga revolves around What begins as a chance encounter between Bujji and Krishnaveni, after running away from the village for different reasons, ends up starting a comedy of errors as fate brings them together in the same office under mistaken identities.
DIRECTOR: Vijay Kumar Konda
STARRING: Raj Tarun,Malvika Nair,Hebah Patel,Posani Krishna Murali
Written :